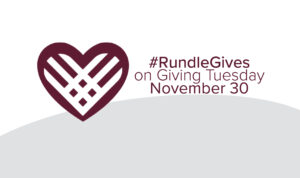 Giving Tuesday at Rundle
Published on November 23, 2021
What is Giving Tuesday?
Giving Tuesday is a global generosity movement, taking place each year after Black Friday and Cyber Monday. It is the "opening day" of the giving season, when charities, companies and individuals join together to support their favourite causes. In the same way that retailers take part in Black Friday, the giving community comes together for Giving Tuesday.
Fuel the economy on Friday and Monday, fuel your heart on Tuesday.
Rundle Gives on Giving Tuesday
Since 2016, Rundle has participated in Giving Tuesday to support the annual needs of our students and programs through our Visions & Values campaign. Rundle's involvement in the day was inspired by the graduating Class of 2015 whose graduation gift was to grow Rundle's Bursary Fund. It was their goal to create a sustainable fund that would provide tuition assistance for current Rundle students whose family has encountered a difficult financial situation and do not have the financial means to continue their education at Rundle. The graduates committed to giving a minimum gift of $20.15 for the next 5 years or a lump sum payment of $100.75. This tradition has continued with following graduating classes. Since 20.15, our graduating classes from both campuses, along with their and other Rundle families, have raised over $235,000 towards the Bursary Fund. 
Project 20.15 has been more than just a student initiative. Since 2015, other Rundle community members including teachers, parents and alumni, have contributed to this campaign, which has become known as Rundle Gives on Giving Tuesday. 
Starting November 30, we invite you to join Rundle Gives on Giving Tuesday and make a tax-deductible donation in support ANY of our funds or programs that inspire you. For more information or to make a donation to Rundle, please visit our Giving page.
We also invite you to become a Friend of Rundle Monthly Donor and make a small monthly pledge of $15 pledge in support of our school. Together, we are stronger!
#RundleGives    #GivingTuesday   #Together    #WeAreRundle