Studio Faculty
We are excited that this team of passionate teachers, with decades worth of experience educating students with learning disabilities, will be working alongside our students at Rundle Studio.

Mr. John Wolf | Principal
Mr. Wolf started with Rundle Academy in September of 2005 and brings over a decade of experience with students who have learning disabilities. During his time at the Academy, Mr. Wolf taught in both the elementary and junior high programs and held divisional and curriculum leadership positions. Over his career, Mr. Wolf has taught in several schools including international teaching experiences in Mexico, the Dominican Republic, and Singapore. 
Mr. Wolf holds a Bachelor of Education degree from the University of Winnipeg and a Masters of Education in Administration. 
He is married to his wife, Caley, and they have two sons, Zachary (9) and Crosby (7). 
He enjoys travelling, reading, and playing almost any sport. A glutton for punishment, Mr. Wolf has participated in several marathons and ultra-marathons including the Oxfam Trailwalker 100km race in Hong Kong and the Borneo Ultra Trail Marathon. 
As part of giving back to the community, Mr. Wolf helped raise money for the Tabitha Foundation of Cambodia and participated in a house-building program. He volunteered at Soup Sisters and has helped raise money for Movember. Mr. Wolf is also a proud sponsor of the Rundle Gives program. 
Rundle Studio combines opportunity and equity beyond the walls of a building.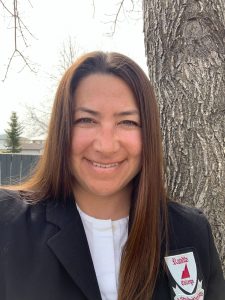 Mrs. Tisha Mellor | Teacher
In the fall of 2004, I started teaching at Rundle Academy in the elementary division. I have over 15 years of experience working with students who have learning disabilities. Prior to teaching at Rundle, I taught at another independent school for individuals with special needs. During the past several years I have tutored at all three divisions, both in-person and online.
I received my Bachelor of Education degree from the University of Calgary.
I am married with two children. I have spent the past six years at home with my kids and now they are both students at Rundle College.
During my leisure time, I enjoy spending time in the mountains with my family and friends. I also enjoy camping, hiking, biking, and swimming in the summer and cross country skiing, and snowshoeing in the winter.
As part of giving back to the community, I helped build the Academy school playground in 2014. Over the last two years, I have raised funds for the diabetes association and I volunteer for my community hockey league with fundraising and tournaments.
Teaching online is so unique as it blends the best practices of teaching with excellent technology.