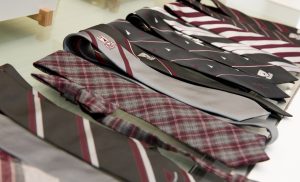 Studio Uniforms
DRESSING FOR SUCCESS
At Rundle we foster a sense of school pride in our students through school uniforms. These instill a sense of responsibility for their attire and allow students to focus on what matters — academics and character building. We encourage your child's individuality to shine through their actions, behaviours and thoughts.
Rundle Studio uniforms are available to purchase through our uniform partner, Top Marks. 
Rundle Spiritwear
Rundle spiritwear can be worn on specified days throughout the year. Spiritwear is only available to purchase through the online Rundle Summit Store on our website and not through our uniform provider, Top Marks. The Summit Store opens at various points in the year. Watch your emails for opening dates. Rundle Spirit Days are scheduled every second Friday of the month and our students are encouraged to wear their Rundle spirit apparel over their uniform.
2021–2022 Store Dates: January 21–February 6 | April 8–24 | June 3–19