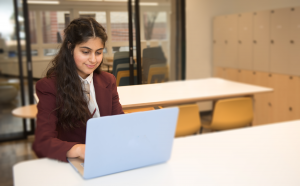 Connect with Rundle Studio
We look forward to meeting you
Registration is open for 2021-2022
Thank you for your interest in the programs we offer at Rundle Studio. The Studio is offered through an online personalized platform. We are excited to share why we believe Rundle is one of the best educational institutions in Canada. 
Our program focuses on supporting the educational needs of students diagnosed with a learning disability and/or ADHD, preparing them for entry to post-secondary studies after high school. 
Join an Information Session
We are offering virtual events and online resources to help you get to know us better. Parents and students are both welcome and attendance at a session is required prior to submitting an application to Rundle Studio.
We are accepting applications for grades 7–8 for September 2021. Attendance at an information session is required prior to submitting an application.
Virtual Information Sessions (Grades 7–8)
Have questions? Our admissions team is happy to speak with you. Please phone 403-291-3866 or email admissions@rundle.ab.ca.