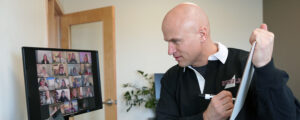 Life at Rundle Studio
A First in Alberta Education
We "opened our doors" virtually in fall 2021 to a new way of educating students with learning disabilities, with or without ADHD, and/or autism spectrum disorder (ASD). At Rundle, we focus on character first and this continues through all facets of our Studio program. Maintaining our value of small class sizes, we have a limited intake of students. 
We are building on the success of our Academy program and bringing that to an interactive, online environment. It's time to be innovative in education and we are thinking differently about online learning and shattering expectations for learning with a disability.
Who is a Studio student?
While all of our students are celebrated for their individuality, they also share some common attributes.
A Studio student:
has a mild or moderate diagnosed learning disability, ADHD, with or without ASD with average to above-average intelligence;

is capable of achieving grade-level Alberta curriculum with accommodations, however not modified;

is looking for an academic program focused on continued learning at the post-secondary level;

has access to high-speed wifi;

is entering Grade 7–10 in September 2023;

demonstrates a desire to do well;

shows kindness to others;

wants to give back to the community;

is curious about learning; and

is open-minded to new experiences.

Rundle parents support our programs which further enriches and strengthens the Rundle community. There are a variety of volunteer opportunities available to our parents from supervising online activities, volunteering for esports events, to organizing special lunches and online scholastic book fairs. As with any new school, there will be additional opportunities where parent volunteers will be needed.
Program Objectives & Pillars
Expert teachers, determined by both their subject matter and learning disability expertise, will deliver the courses in a highly interactive online learning environment. Students will be engaged on deeper levels of thinking to support the development of their future-ready thinking and skills. Various approaches including, but not limited to, Universal Design for Learning (UDL) and proprietary tools will be leveraged to support students based on their unique needs. 
The founding Rundle Studio team has 125 combined years of experience delivering a premier program for students with learning disabilities as the Academy is already a recognized national leader in education for complex learners.
At Rundle Studio, students will have access to Lead Teachers that are available in both real-time and on-demand videos for revisiting concepts and lessons. Accommodations are deployed by Teacher Advisors based on a robust IPP that is reviewed regularly to ensure that it is an authentic reflection of each student's true needs and growing skill development.
Instruction and assessment are differentiated based on the IPP and each student is afforded the opportunity to show growth through modalities that work best for them (verbal, written, multimedia, and others).
All teachers are supported through ongoing professional developments in learning disabilities and education.
The Studio will provide students with the individual support needed to be successful in an online learning environment and successful in life. Students will work with their Teacher Advisors to understand their schedule and all the technology tools that will support their learning. The Teacher Advisor will "follow" the student; scaffolding their growing independence to understand how to self regulate their approaches to learning. This will include a strong focus on self efficacy and advocacy.
Helping students organize themselves and take control of their learning will be an ongoing process of gradual release of responsibility. The Teacher Advisor will consider the cognitive abilities of each student and create a personalized learning journey. The goal is to grow the student's skills from middle school through high school supporting their unique development needs.
To ensure students are connected to their peers, their teachers, and their community in meaningful and robust ways. Rundle Studio will consciously cultivate a sense of community through deliberate character building, social interactions, as well as co-curricular offerings that are based on choices students make that reflect their passion-based interests. Students will actively engage in community service opportunities in their local areas and share their experiences as part of their expectations for learning.
Like our Academy program, the Rundle Studio community will champion the values of:
connection

critical thought

compassion

curiosity

kindness

wellness
Delivery of learning at a student's own pace through synchronous and asynchronous delivery.

Students are given a multitude of options to explore their learning passions.

All lessons and learning resources will be posted online for students to access when and where they need it — 24/7.

Guest speakers and thought leaders will bring greater insights to the learning environment.

When students need flexibility in their schedule, they are easily accommodated.

Students learn about their individual learning styles, and develop academic and executive functioning skills that will allow them to be successful in their learning today and in the future.

Connections will be developed and nurtured with students from across Alberta and around the world. 

Offers an affordable independent school experience to students with a learning disability in most regions of Alberta.

Delivering the Alberta Education curriculum unmodified with "Attention to Excellence" as Rundle has since its inception in 1985.

Providing an academic program focused on continued learning at the post-secondary level.

Learn more about our program model and a daily schedule here.
Support & Skills
Studio students gain:
executive functioning skills and strategies

academic accommodations

remediation

communication skills

parent support and follow up

live academic reporting updates

monthly updates

regular connections for IPPs and Reports

student advocacy skills