Rundle Studio
Grades 7–9 Program
Through our Pathways to Learning program, the Studio encourages students to strive for success in academics, build solid character, and engage in co-curricular activities. Although we want students to achieve the highest level of academics, we believe that putting a focus on character development is paramount.
Through social interactions, learning experiences, and co-curricular activities, students will continuously develop their character. The Studio will deliver curriculum from Alberta Education at grade level with no modifications.
DAILY PROGRAM COMPONENTS
Students engage in focused goal-oriented tasks in the learning process in order to deepen their understanding of the curricular content.
During the day, students are given opportunities to connect in a playful way. While being supervised in a safe environment, students can make choices and engage with each other through fun experiences, allowing for creative and social skill development.
It is important for students to connect with others. Rundle Studio provides opportunities for students to reach out and connect with their communities in a variety of ways. By reaching out to help those in need in the community, volunteering for a local organization, or spending time with family and friends, connecting with others is an important piece of a student's character development.
Through co-curricular activities, such as esports, students will engage in opportunities to collaborate, strategize, communicate, and interact with peers from a variety of places all over Canada and around the world.
During TA time, students in small class sizes will interact with each other to learn, solve problems, and engage in collaborative projects. Throughout the year, students will be given challenges to complete as a group. Students will compete in House Teams to earn points, which will be collected throughout the school year. Having House Teams provides students with a friendly environment to compete in a fun way with other students.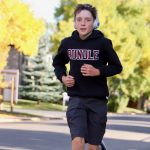 Physical activity is vital to keeping students energized and healthy. Every student is expected to engage in a physical activity each day. As such, students will be provided with guided instruction on a variety of activities. By allowing for student choice, they increase their autonomy over learning and increase the likelihood of continuing this process. Students will keep track of their progress over time and make regular reflections to guide their goals.
Being mindful provides students a chance to reflect on internal feelings and make connections to the world around them. Rundle Studio provides time for students to centre themselves and focus on metacognition.
Throughout the day, students are provided with small breaks to allow their minds to relax. This allows their brains to recharge for the moments when deep learning occurs. Students, like all people, require a chance to let their minds wander without a specific goal in order to avoid becoming overwhelmed.
In order to consolidate the learning that takes place during the day, students require a good night's sleep. By teaching students the importance of creating a balanced schedule, they will learn to develop better sleep habits, which will enable them to function at their best during the day.
Students will also be encouraged to develop healthy eating habits. Typically students with learning disabilities exert a lot of mental energy throughout the day as they concentrate and focus on applying accommodation strategies while learning. As such, Rundle Studio will teach students the importance of nutrition and the effects on their minds and bodies. In collaboration with their families, students will work to plan healthy meals and snacks to optimize their learning experience and potential.
Technology Requirement
As an online school, we have specific requirements to ensure we are connected when we need to be. All Studio students are required to have the following:
a stable internet connection with at least 20 mbps connection download speed

a minimum of at least 2.5 mbps connection upload speed
Each student will be provided with a device to use at home for all school-related activities.  This device will be maintained and monitored by the school. Technical support will be available for issues related to the software and the device itself.
How our online school works
The Lead Teacher (LT) will deliver curricular content using clear direct instruction to all students in the grade. After the lesson, students move to small breakout groups where the Teacher Advisor (TA) consolidates the learning through highly dynamic, engaging, and personalized activities.
While in TA groups, students ask questions, interact with each other, collaborate on activities, and demonstrate their understanding of the day's material. Once the lesson is complete, the TA will connect with the LT to review student progress and prepare for the next lesson based on the results.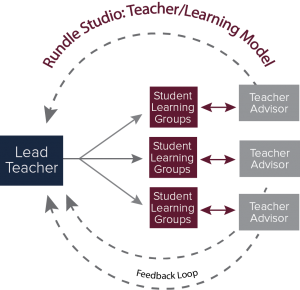 A Typical Day
A typical school day at the Studio may follow this schedule.
Time
Activity
8:45 am – 8:55 am

Teacher Advisor (TA) Check-in Time:  

Meet with teacher to review announcements, take attendance, discuss upcoming events

9:00 am – 9:50 am

ELA Lead Lesson:

Synchronous

9:00 am – 9:50 am

ELA TA Activity:

Asynchronous

9:55 am – 10:50 am

Math Lead Lesson:

Synchronous

9:55 am – 10:50 am

Math TA Activity:

Asynchronous

10:50 am – 11:00 am

Break

11:00 am – 11:50 am

Science Lead Lesson:

Synchronous

11:00 am – 11:50 am

Science TA Activity:

Synchronous

11:55 am – 12:45 pm

Social Studies Lead Lessons:

Synchronous

11:55 am – 12:45 pm

Social Studies TA Activity:

Synchronous

12:45 pm – 1:15 pm
Lunch / Early Check-Out on Fridays
1:15 pm – 2:05 pm
Literacy/Numeracy
2:05 pm – 2:55 pm
CORE / Options
2:55 pm – 3:45 pm
PE/Health
3:45 pm

TA Check-Out:

Students complete agenda